So here is a glimpse of what I consumed as I ate my way through Paris, Lisbon, Milan, Berlin and Budapest.

Here is a fleur de sel caramel macaron from Laduree.


Every tiny bite was heaven realized and baked into this macaron. It was so sumptuous-- that harmonious blend of sweet and savoury-- that I still remember how good it tasted! Bring me back to Paris, now!

Here is a slice of chocolate cake layered with jam...


and topped with slightly moldy fruit. The cake itself was rather bland. Too bad, because it was a rather large slice of cake too, and I felt guilty for not eat all but the moldy fruit so I surrendered, I let it take up precious room in my stomach.

This here is an innovative presentation of mille-feuille.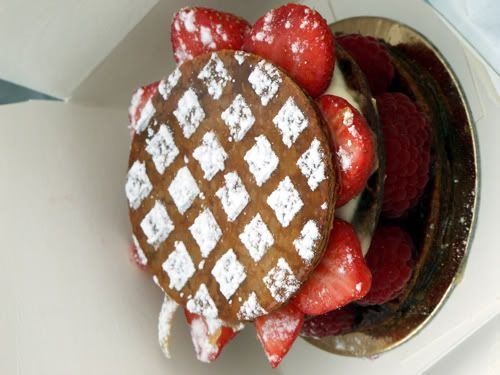 I let it be my lunch one day, with a latte of course, but it was sans doute a mighty fine lunch!

Next to the aforementioned macaron, this may be the next favourite patisserie I had in Paris.


This is not just any plain St. Honore gateau that you get from just any plain patisserie in Paris. This is a St. Honore de rose et framboise. Rose-frosted bavarian cream puffs with premium raspberries and rose-infused whipped cream. I think I remember there being some sort of raspberry gelee in there somewhere; I was just so enthralled (!) by this beauty of a cream puff mass that I have forgotten.

Here is a fraisier from a random patisserie by the Notre Dame.


It was...okay. Nothing outstanding about it...

Here is gelato from Amorio. There is some sort of cherry coulis running through that mess of frozen cream.


Everyone raves about it in Paris, but to be honest, I can name four places in San Francisco with better gelato or ice cream, and this place is a chain, to boot!

And another fraisier...


from Le petit Lux by the Jardin du Luxembourg. Now this is worth mentioning, unlike the fraisier from above. It was a very fragrant genoise with ripe strawberries, chantilly, and a layer of fine marzipan. meow!

Here is the 'dalloyau' from Dalloyau right by the Bastille.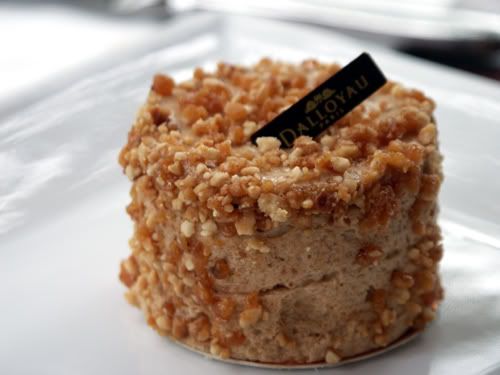 It's a hazelnutty-moussey cake that my friend Lorraine got and who so graciously let me take a bite of.

Mon echequeier.


Quite handsome, isn't it? Layers upon layers of chocolate, mousse, ganache, buttercream, and hazelnut cake.

Mon petit macaron de bergamot.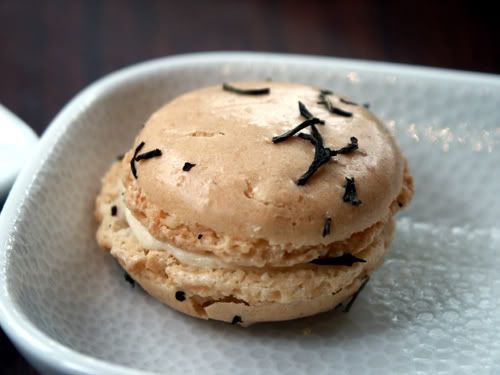 Also from Dalloyau; very delicious and with real Earl Grey tea, no less!

Now....


The ever-so-famous ispahan from chez-Pierre Herme. This parcel contained lychee custard cream, raspberry gelee, raspberries, all sandwiched between two rose macarons and topped with a raspberry and a rose petal bejeweled with a sucrose drop. Fancy.

Ahhh...


To slowly relish a Parisian breakfast again....
This was breakfast one morning by UNESCO (I was on my way there) and l'Ecole Militaire. Quiche Lorraine, macaron pistache, cafe au lait, un carafe de l'eau, et mon journal...de quoi d'autre est-ce qu'on a besoin dans la vie?

Gelato in Lisbon.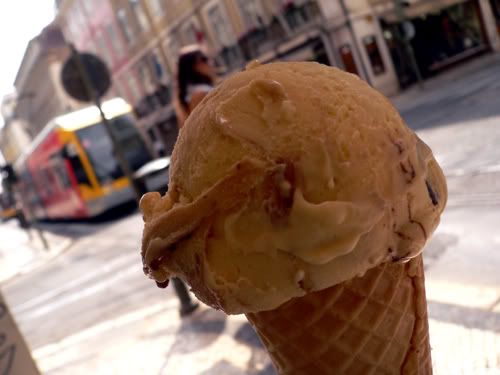 'Cookies'. I don't even normally eat ice cream but Portuguese gelato was a novelty for me, and I ordered 'cookies' just so I could listen to the lady say, "CoooOOOoooOOOkies".

Breakfast in Lisbon.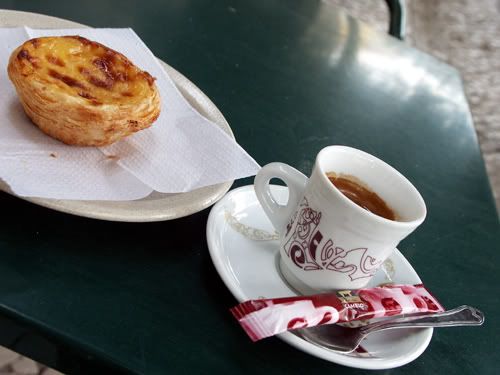 Pasteis de nata y kafe espresso? Don't speak any Portuguese so I cannot be held accountable there.

Cupcake grafitti.


Look how fun and vibrant grafitti can make a town!

Dessert and white wine in Milano.


It was some sort of marscapone, cinnamon, chocolate, bisquit-y dessert that was definitely not tiramisu, which I had initially mistaken it for. Very rich, but my friend, Vino Bianco there on the right helped out.

Guess what.


beet juice! in Berlin! it was delicious despite how vile it may sound to you. i am now full of anti-oxidants and you are not, so be jealous!

Oh god, did I just hear my heart murmur?


my kebab I had one afternoon in Berlin as a late lunch; it screams PULMONARY HYPERTENSION but nonetheless, you should get yourself one if you ever find yourself on Warshauerstrabe in Friedrichshain, Berlin. The pressed bread, along with the well-seasoned kebab meat, and fresh, crunchy veggies all came together, harmoniously like the instruments in an orchestra.

Milano!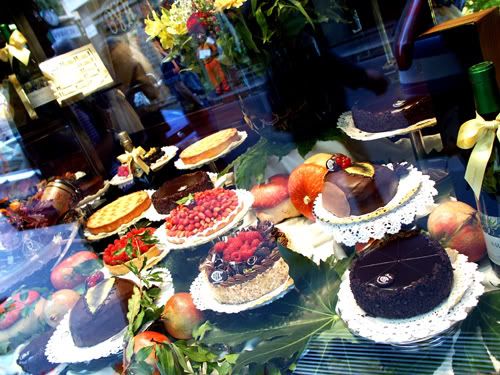 didn't get a chance to go in; my stomach wouldn't have allowed me to either after a heavy lunch.

fruit tarts that finished my heavy lunch.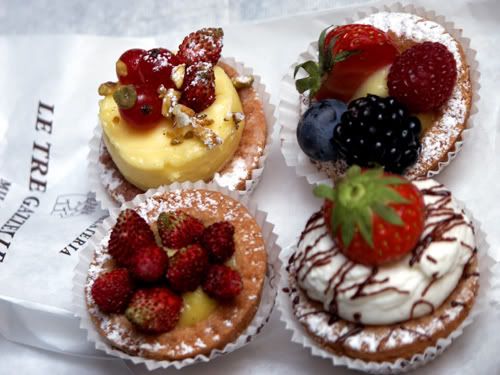 and now, I am heavier. So worth it though!

Turkish figs...


...were all over Europe. They undoubtedly defeated the Spanish figs!

Belgian waffle with pockets of caramel.


from Kaiser supermarket in Berlin!

a very delicious cheese and pepito baguette with tomato, mozzarella, and lettuce.


so very delcious, and yours from only 2 euros; you cannot even get yourself a sandwich of similar magnitude at A.G. Ferrari for 3 times that!

heidelbeer joghurt torte!



passionfrucht-koko-schokolade mousse!!


So very delightful!

Sacher torte from Budapest.



I love this picture I snapped of the bakery case lady at a huge supermarket in Budapest.


She was wrapping up my marzipan cake (which I shall eventually post a picture of), and I thought, wow, what a great memory to have, of a Hungarian bakery-case lady, in primary colors take note, wrapping up my dessert that I am going to eat before my dinner!!

That is all for now. I am not going to lie, I kind of ran out of things to say towards the end of this entry. But to be fair, Parisian pastries far surpass any other in the world so while most photos from Paris were noteworthy, others from other places were just...less!