Lucky enough to have spent my spring break in Hong Kong. After a grueling 14-hour, starvation-filled flight in a horribly assigned seat (since when did they stop asking for your seat preference?) on Cathay Pacific, I finally arrived in HKG on Saturday night. As if the consolation gods were smiling upon us, they upgraded us to a business suite at the hotel, how lovely!
Yakult-- my probiotic drink of choice since childhood. Plain and simple: supermarkets in Hong Kong are far superior than those in the US (for the most part) for carrying daily essentials such as Yakult, KinderBueno, and cheaper, but still quality chocolate, like Green&Blacks.
Alors,
Yakult me manque beaucoup!


A mont-blanc gateau from LPG.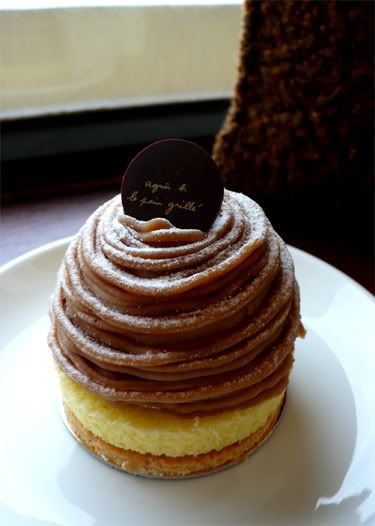 A slightly too dry genoise sat on top of a wafer, and top of that sat chesnut cream, a moist meringue, chocolate pralines of some sort, all enrobed in swirls upon swirls of creme de marrons. Such delight, coupled with a cup of jasmine tea, made for a nice way to unwind after a long (five-hour Sunday stroll).
Chocolate chesnut mousse cake, also from LPG.
Albeit gilded with gold, it was not as epicureous as the aforementioned, but nonetheless made for a pleasant snack at 9pm after a 3-hour jetlag-induced nap.
Hong Kong street food.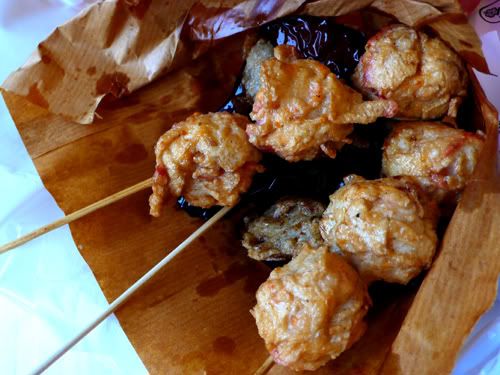 Fish-stuffed eggplant and shrimp kabobs. Quite oily but makes for such an amazing snack, especially for hangovers, not that I was, but I sure felt like it after an exhaustingly dehydrated and famished plane ride, preceded by ~48 hours of no sleep, finals-related activity, and Sunday shenanigans with family in Hong Kong.
peppers stuffed with pounded fish paste (think pescatarian sausage):
Not as disgusting and revolting as it sounds. There remained a decent amount of pepper seeds such that there was still a 'kick', I approveth!
Roast goose noodles ('lai fun') at Yung Kee, Wellington St. The Belgian Prime Minister once dined here.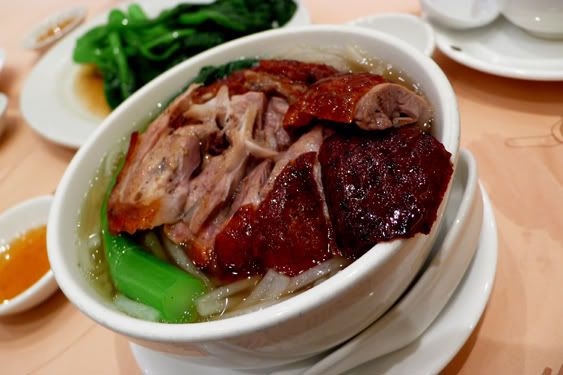 Made for quite a nice meal but I must say, if given roast duck and roast goose, I would prefer the former, due to its tenderness and flavour. As my fellow I-Housemate who's a native Hong Konger said, "You really do know where to eat in Hong Kong!" I guess...
Woe! I asked for 5 minutes when the madre woke me up at 8am, as I was still fighting the ills of jetlag and sleep deprivation. Peace was disturbed again at 10am-- a loss of 1:55 of precious time that I could have spent traversing the wondrous and gastronomically amazing landscape of Hong Kong! Woe again!! So, she left to get breakfast without me, leaving yours truly to pick up breakfast at a nearby bakery-- banana swiss roll (not pictured) and blueberry miroir (pictured).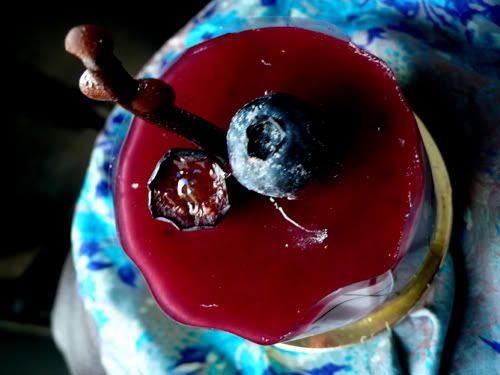 Why Asian and European desserts own that of their American counterparts: they prioritize using natural ingredients and use sugar sparingly.
After an epic trek to Tai O (taking the blue line to Central Station, then tranferring to the Tung Chung (orange) Line, taking it until the end of the line, and finally catching the No. 11 Mui Wo bus to traverse Lantau Island to arrive at the fishing village of Tai O. Here is the malted caramel lady.
I had to pass the first time around as we were searching for lunch.
But gave it a try 3 minutes before leaving Tai O via bus, metro, metro.
super sticky, yet not cloyingly sweet.
Charcoal grilled dried seafood man:
People prefer it as snacks.
Out of order, but this was lunch. My unimaginative mom, amidst hunger pangs, decided "two bowls of wonton noodle soup" for the both of us...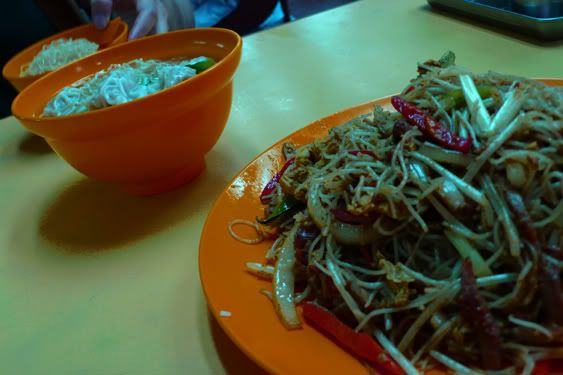 ...while I wanted to further investigate the menu. Singaporean fried noodle sounded like a good deviation, and so it was! It was the best 'mee goreng' I have ever had, intricately flavoured and a nice complement to the subtle flavours of the noodle soup in the background.
Fishermen in Tai O sell their catches from their boats, like this one here: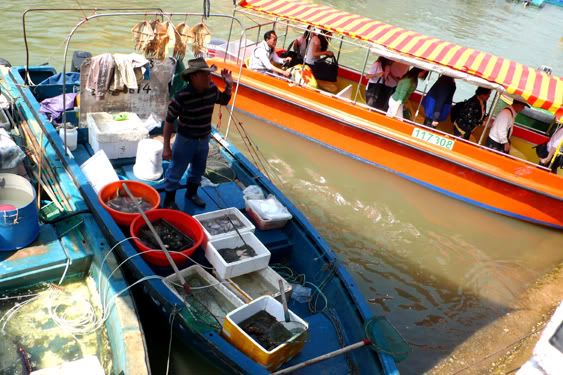 And purchasers bring the goods to restaurants for cooking, so fresh!
Houses on stilts in Tai O. It's a whole other world out there.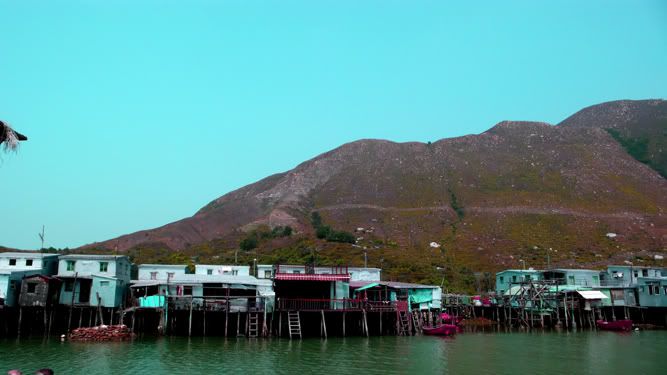 We made it back by 5pm to have tea at the InterContinental Lobby Lounge.
It was quite a treat, as mentioned in an earlier post; I just did not have the chance to post this one picture.
Governor Chris Patten's favourite egg tart, from Tai Cheong Bakery in Hong Kong.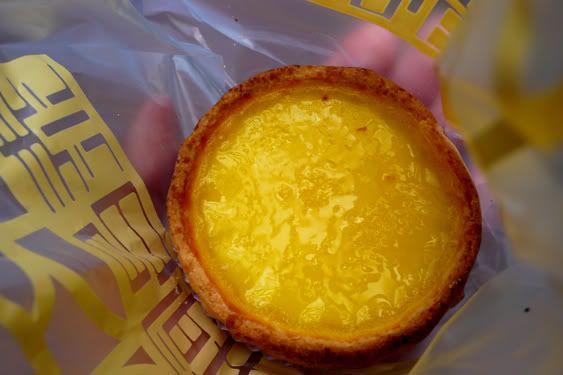 It was deliciously flaky and just the right amount of sweet. Egg tart (!!), yours for only HK$4.50 or 58 cents of the direly weak US dollar.
Once upon a Sunday stroll...
I walked into a Taoist festival. I always find it culturally amusing when the "old" is juxtaposed against modern notions, such as the Bank of China to the left.
Dim sum for brunch.
Every culture thinks tea is their own.
wonton noodle soup at Tsim Chai Kee, Wellington St, Mid-Levels, Hong Kong.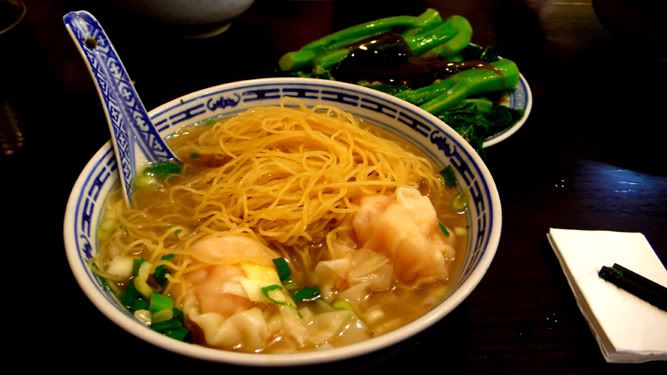 After dropping off luggage and having a delicious breakfast of fried radish and chesnut cake and porridge at Aunt Ruth's, we walked around the neighborhood until it was 2pm and she declared it was lunch time. She suggested dim sum and my mom refused; we finally settled for wonton noodle soup and as we were walking towards Wellington, I asked her if it was TCK that she was bringing us to. Lo and behold, it was, how did I know? Anyway, the wonton noodle soup was amazing, the broth was intricately simmered, the wontons were giant boulders of whole shrimp and the noodle was a perfect
al dente.
The same aforementioned HK foodie exclaimed, "This place is the best for wonton in HK!" I would pick a place that had shrimp caviar as an option but still, pretty exceptional, this bowl of comfort food.
Tea time, Portobello, Staunton, Mid-Levels, Hong Kong.
We do not have tea houses that double as bars in the U.S., at least not to my knowledge. We also do not have an abundance of blooming tea, unless you count high-end, modern furniture shops that sell scented candles, and blooming tea. My pot of marigold jasmine blooming tea, was thoroughly enjoyed over long conversation with my artist/ballet friend Oy.
The view from our suite, Fortress hill.
If you looked to the right or left, you would get a similar view-- such uniformity. These were the apartment buildings that enclaved our hotel.
A visa step into China costs you a whopping $130! U.S. dollars!!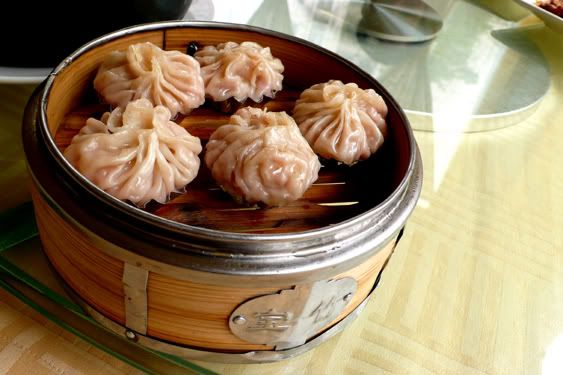 At least the Chinese Consulate granted me a multiple entry visa...but will I need it? Anywho,
xiao long bao
in GuangZhou. One of my IR professors once described his affinity for them, in a story that involved everyone eating these pork dumplings at a local restaurant in BeiJing, only to have the locals and the staff stare at him
sans cesse
when he walked in and attempted to order the same thing everyone else was eating, because he was a foreigner, which consequently set him on his new cheaper-than-renting purchased bike in quest of another restaurant that offered similar fare. Hooray for long sentences!
After a 6-course meal that involved the above image of dumplings, and also other dishes such as tofu with corn, fish of some sort, lotus root soup, etc, my mom decided that she was hungry again when we came upon ShengXiaGiu Lu.
Eight skewered birdies, topped with hot sauce-- reminds of me of the 300 hummingbirds they served at a banquet in
Candide.
Only this is streetfood, in China.
I read about this amazing seafood restaurant where you pick out your fare and the way it's prepared before it arrives at your table.
Cheese-baked oysters, from a restaurant formerly known as DongJiang, by the HaiZhu Bridge in GuangZhou. You see, Asian cultures are pretty unlearned when it comes to cheese, so almost anything passes. This "cheese" puts your local, highly-processed, highly-plastic, individually-wrapped American cheese in high regard. I kid you not. This sauce in which the oysters swum pretty much consisted of milk, corn starch, and flavouring. Oh, how les Francais would start a rebellion!
"Tea-baked shrimp"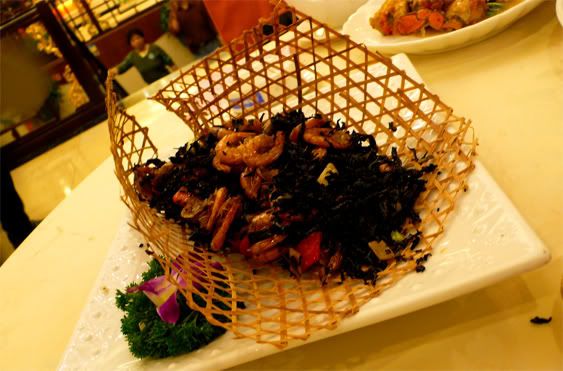 Things looked brighter when our shrimp arrived at our table. They were "tea-baked" but it appear as fried, and that mess of black stuff is tea leaves. Quite delicious and different from everyday Cantonese cuisine.
crab!
a delicacy to me because it's only seasonal in the Bay Area and even then, like last year in November when a pilot rammed into the Bay Bridge, spilling 50,000 gallons of heavy diesel oil into the Bay Area, devastating amongst many forms of life, the dungeness crab.
dim sum for brunch on Sunday morning.
Amongst the goodies you can spot are custard-filled steamed buns and a shrimp dumpling.
sAt one point, I had the chance to meet up with Lily, who studied at my university fall quarter, 2007; he goes to school and lives in most amazing city on earth.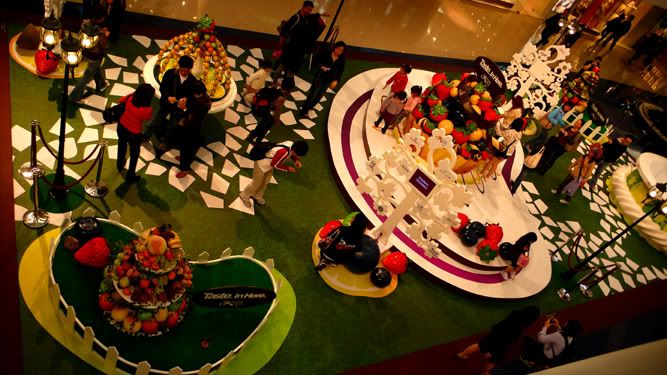 Festival Walk, a favourite place of a lot of Hong Kongers whom I've talked to. I can see why...
Crevettes of some sort, fried with pepper, garlic, and other spices.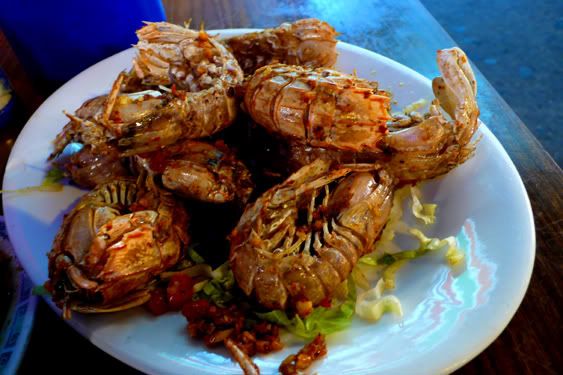 Truly delicious, and I did not even get food poisoning (as they warn you about "dirty" street-side eateries.
We also had super savoury and succulent clams and escargot.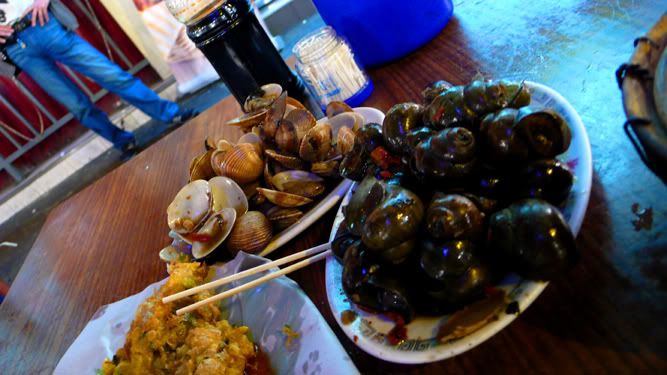 Makes for messy eating, but when everyone's doing it, you feel less out of place. On another note, let us regard man with hands on hips, posing with utter panache in the background :).
Yet around round of dim sum, and literally so!
Why Hong Kong is 20 times a more pleasant place to live, than where you are right now (I kid...)
The dogs sport amazingly chic anoraks when it's overcast outside, with 90% chance of rain, now that is the 'Sartorialist' for you!
giant lobster.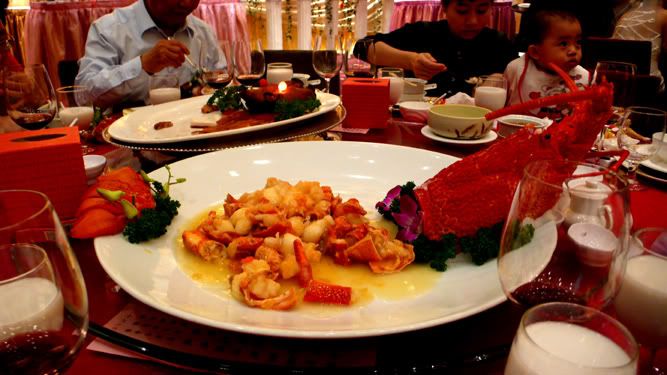 Like, really giant, especially shown to scale with baby's head.
On a KCR ride.
And after all that eating, of course you are going to be sleepy...