and then some. As an early disclaimer, this blog is not for weak stomachs-- I warned you (!) Anyway, I grew up eating a lot of seafood, and really enjoy it, whereas some of my friends cannot stand the sight of mussels and fish. I consider myself quite lucky to not live in a landlocked country where salt-water, and even freshwater, offerings are sparse. Growing up, the 'rents would make the drive to some oyster farm to pick up 100 oysters when we had company for dinner. More often than red meat, we'd often have crab or clams or mussels-- coastal living at its most sumptuous!
Hog Island!
Every now and then, I like to go with the madre to Hog Island and get oysters at the Ferry Building, always opting for a seat outside along the banks of the bay. Pictured here is a dabob oyster, from some deep, cold water bay up north. Nice and briny, they went so well with their mignonette sauce and a hint of lime!
Here they are, three dozen of them, in all their glory.
She thought such a lowly number would fail to sate us; I beg to differ. However, this guy behind us, an avid oyster-eater, boasted a record of 150 oysters in one sitting; this time around, he stopped at around 120. Caloriffic cholesterol, pulmonary hypertension!
Lately, restaurants of sorts have been closing, and new ones have quickly taken their place, albeit obvious in their protrusive unfamiliarity. Such applies to King Wonton and Noodle. The madre and I, intending to go to PPQ for some pho, decided on this cafeteria-esque joint instead, because firstly, we didn't have to endure a long wait, and secondly, they proudly display a picture of a chef wielding a giant bamboo stick (presumably as a rolling pin) and making the noodles sans machine (ostensibly authentic, just like in Hong Kong)!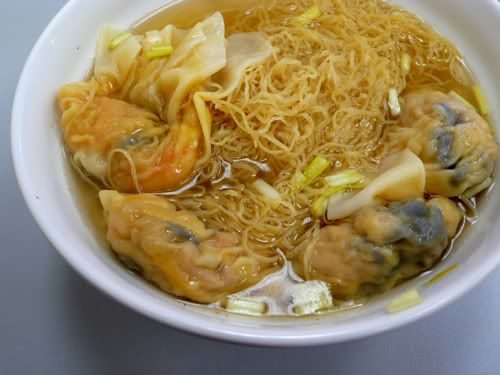 We both got the dumplings with noodles instead of wonton, because of a
shui gow
's superiority in filling ingredients. The dumplings left more to be desired, as the wrapping was rather undercooked in some parts, as were some chunks of gray-coloured shrimp (is that kosher?), along with chunks of pork fat that I, without hesitation, picked out. The chives in the soup made a pleasant addition, and the noodles themselves in all honesty, the best I have ever had-- here or in Hong Kong. One would not truly know unless one has, in fact, experienced; thus the next time around, when the occasion arises, I shall order the noodles alone, and ideally have an enjoyable meal.
"Why would you order seafood in a restaurant that doesn't specialize in seafood?" my friend asked. Because, when oysters are prepared à la Louisiane, one just does not forgo the opportunity. The oyster scramble with bacon, a biscuit, and the creamiest grits you'll ever have, at Brenda's: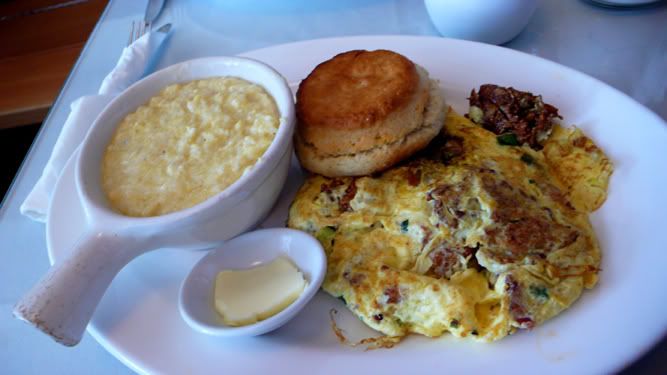 Our first attempt at dining at this restaurant largely failed, because they were enjoying a two-week vacation-- totally understandable and modest compared to 1 to 1.5 month-long
vacances d'été
of my friends from
la Belle France.
Anyway, the subsequent Saturday, we tried again after ballet class, and were seated after about a 30-minute wait that was spent ambling in the neighborhood, avoiding the most troublesome bits. So back to my scramble, the oysters were fried in a cornmeal crust, which no restaurant in the Bay Area does anymore, or ever really; I really appreciated this extra detail and it goes to show how authentic Brenda's French Soul Food is. Their biscuits are delicious, but not for the faint at heart, as you must prepare your stomach in order to consume a whole, of course, with their strawberry compote (thankfully made with minimal sugar) to taste the full glory of this sensation. Together, this dashing duo gives PB&J a run for its money. The grits, as aforementioned came creamy and wholesome, none like I have ever tasted, you must try to realize this level of achievement in grits concoction. Corn porridge perfection!
Because ballet and eating exist as my two sole preoccupations (kidding), this mussel experience comes from yet another post-class food adventure:
Pompei mussels, in a cream sauce with white wine, shallots, lardons, and gorgonzola. Most tender mussels I have eaten to date (and I started young), as my friend exclaimed, "Wow, these mussels are so smooth!" Agreed!
With all these aforementioned positive experiences, there always exists a rotten one of the bunch. And hence, I introduce you Weird Fish, a restaurant you are probably better off not knowing. My "peacemaker" with a cup of clam chowder: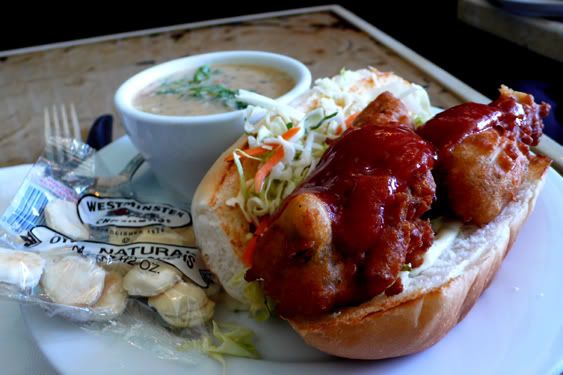 My lunch was nothing short of weird. I walk into this tastefully decorated hole-in-the-wall on Mission and give my order at the cash register, in a Crepevine/Frjtz/Squat&Gobble mindset where one would do the same. The waitor/maitre d'/cashier assumed 'to-go' and I corrected him, only to receive a "Uhhh, okay? ...Do you want to pay now?" What kind of question is that anyway, but I go to pay the amount indicated on the register anyway and he disappears, as I left the money awkwardly sitting on the counter. He comes back, asking, "Do you want to sit at the counter? Do you want to sit at the counter?" Really, did you have the ask the same exact question twice in a row like a parrot? Because the counter was not really a counter, but a 9-inch ledge, ostensibly not even large enough to fit a plate, but before I could even respond, he disappeared again without saying anything, which always counts in my book as
weird
service, especially in the middle of conversation. He suddenly reappears again, and I ask if I could sit by the window (to people watch) to which he responds, "Uhhh, I guess not?" Given that it was a request with
in
reason, I found it to be an unreal response, only in this case, he confronted me with the very real and ugly truth. So I sit between two tables of older people, who were situated too close for comfort, and who were engaged in conversation too heavy for the lunch table (read: re. divorce to the left and abortion to the right). As I read my outdated issue of
Time
on Putin and Russia, my mind was in this confused state; I would have enjoyed mindlessly looking at people by the window as I awaited my meal (!) Finally, my plate comes. The chowder was decent and maybe two steps above canned clam chowder. The sandwich, moreover, was Mediocre; the oysters curiously unfresh and the bun too soft for my tastes (think oversized hotdog bun that was sitting neglected in a plastic bag). Dismal lunch with a 5% health surcharge. I mean, maybe I do not fully comprehend hipster culture, but seeing as San Francisco is becoming increasingly gentrified, in a "normal" context, this experience was just plain
weird.
Back to positive seafood experiences! Vietnamese-style clams in soup.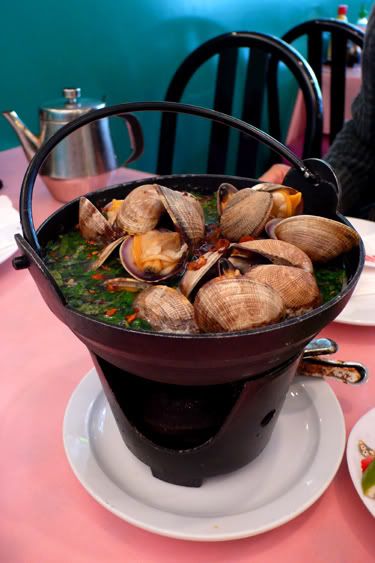 A light lemongrass and fragrant basil broth, starring Manila clams. Delicious.
And forward came the crab, prepared with "salt and pepper":
Its presentation of onion, scallion, pepper, butter, and basil only to be received with open hands. A delightfully exquisite experience that engaged the senses of taste, smell, and to some extent sight. Yummy Yummy. A must-go if you are a crab fan, and by the way, that's the name of the restaurant-- Yummy Yummy, and it sure was!
The padre is temporarily back from Vancouver, and this is what he discovered there: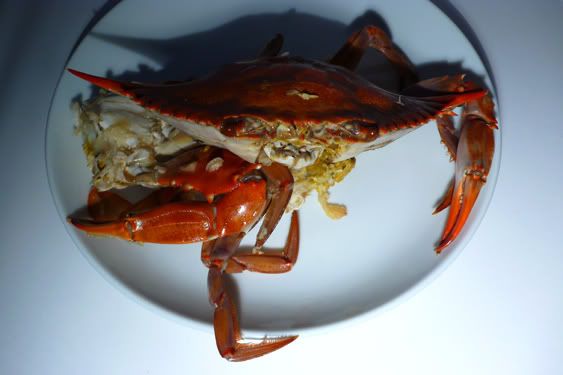 steamed crab with garlic and sesame oil. Very subtle, yet very fulfilling. Rather bizarre having your dinner look up at you like this...I'm just saying.
A's last night in the city and I suggested Ti Couz; I can never tire of it! Here is
mon crepe avec coquilles
:
scallops, not marshmallows, for you anglophones. It was a buckwheat crepe with scallops, some creamy seafood sauce, and chives. With the accompaniment of pear cider (
cidre poivre
), such made for a very satisfying meal. Yay for good company and good eats!
After that Weird discourse, I am blogged out; must go catch up on life before I write another entry!